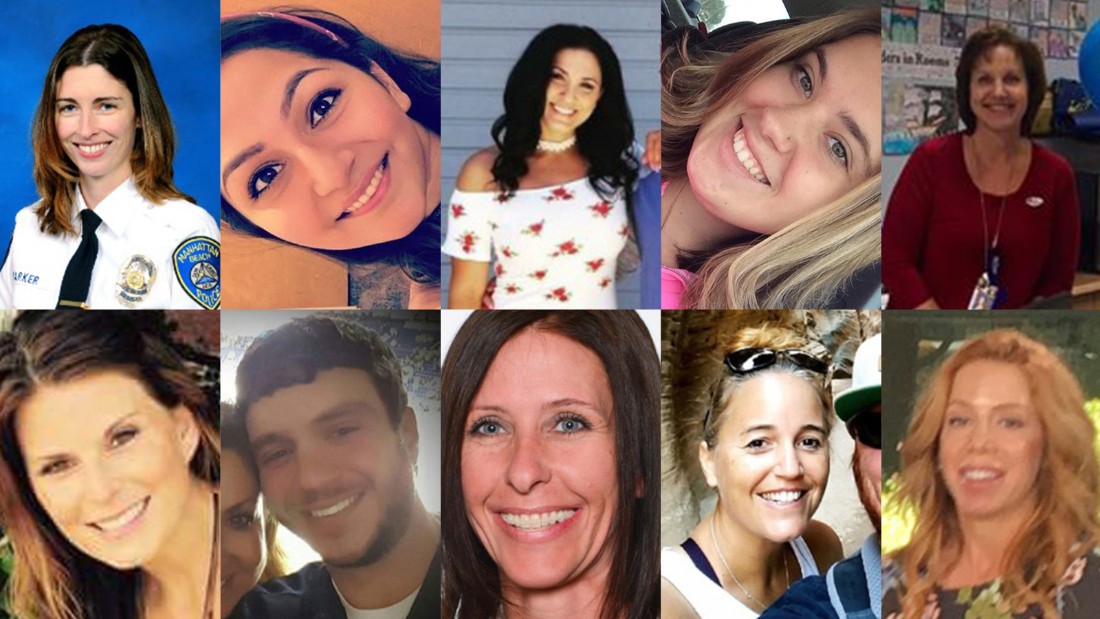 (CNN)One was a former banking professional who died in her husband's arms, minutes after dancing with him. Another was a father of six who is said to have died while shielding someone else. Yet another was a nurse who died protecting his wife.
At least 58 people were killed and at least 500 others were injured Sunday night when a gunman fired into an outdoor country musical festival crowd from the 32nd floor of a Las Vegas hotel in
the deadliest mass shooting
in modern American history.
Here are some of the victims' stories:
Brian Fraser of La Palma, California, attended the festival with a group of 20 people that included his wife and children. Nick Arellano, the oldest of Fraser's four children, described him as "the most involved parent." He coached his children's football and baseball teams and was in the school parents' association. Arellano was 11 when Fraser married his mother and adopted him. The couple had three more children, who are now ages 17, 10 and 4."He took care of all (of) us," Arellano said. "Every person he was in contact with saw his love and compassion and honesty."
Kurt von Tillow of Cameron Park, California, and his wife Mary Jo were best friends who did everything together. They golfed together and recently brought their two grandchildren to Disneyland. Together, they attended the country musical festival with their daughter and two more relatives.
Von Tillow's wife and daughter escaped unharmed. But the 55-year-old truck driver died of his injuries, a relative told CNN. Von Tillow's sister and niece were hospitalized Monday and are expected to survive, Janet Carson-Tenney said.
"He lived a perfect life. He was loved by everybody, he didn't have an enemy, he didn't have a mean bone in his body. He was the life of the party," Carson-Tenney told CNN. She'll remember his laugh and how much he loved his family.
Jack Beaton of Bakersfield, California, was attending the concert with his wife Laurie and their friends. Three hours before the shooting, he posted a blurry photo on Facebook of the gang lounging on the lawn, koozie-covered beers in hand.
The day after the shooting, Beaton's son shared a picture on Twitter of his father and asked for prayers.
"He jumped in front of my mom and got shot," he wrote. "I love you dad."
Later, he posted on Facebook: "Lost my best friend. I love you so much more (than) you could ever imagine."
John Phippen, a 56-year-old father of six, was fatally shot while shielding a woman from the gunfire, Phippen's neighbor said.
Phippen was hit after his son stopped to help someone else, said Leah Nagyivanyi, Phippen's neighbor and close friend for 17 years. His son was wounded in the arm, she said.
Phippen lost his wife three years ago, said Nagyivanyi. Her family went on camping trips with Phippen and his clan. He was the kind of person who got along with both children and adults, she said.
"Our kids look up to us, and look to us for guidance, but these kids considered John their best friend," Nagyivani said. "That tells a lot about the kind of person you are. He was everybody's best friend."
One time, when a boat flipped over during a camping trip, Phippen and his son sprang into action just like they did at the concert, she said.
"He was a man of integrity who always had your back," she said. "There is nothing he couldn't do for you, wouldn't do for you. You didn't even have to ask."
Thomas Day Jr., 54, of Riverside, California, was with his four children at the festival, said Bruce Abbey, a vice president of a California construction company where Day worked.
His daughter Whitney Day wrote the following about her father:
"My sisters Candice and Kelsey and brother Nolan and I just want to say that he was our rock, he was our everything. Anyone he came across he put a smile on their face. All our friends would call him Daddy Day because he treated everyone like one of his own and it was an honor to us all to be able to share our dad with the world."
Day was an estimator at Portrait Construction in Corona, California, and had been at the company for more than 20 years, Abbey said.
Austin Davis, a pipefitter from Riverside, California, was at the concert with a friend and her family. The friend's father, Tom Day Jr., was also killed.
His girlfriend of nine years, Aubree Hennigan, said he loved playing softball. Katelyn Hood, who said Davis was her best friend and her baby's godfather, described him as a man's man with a contagious smile.
"He worked so very hard and took the most pride in that and anything he did. Austin didn't half-a** anything in life. If he knew you, he loved you. That's just how he cared for people," Hood said.
"He is coming home not in a way that any parent would want him to. We wanted to bring him home in our arms," she said.
Chris Hazencomb, 44, was excited to see one of his favorite artists, Jason Aldean, at Route 91 Harvest.
Hazencomb went to the festival with his friend Nikki Torres. Torres said she and her husband knew Hazencomb for years and considered him part of their family.
"He was the nicest person I have known. He loved to help people and thought of others before himself," she told CNN.
Like many attendees, they thought the first round of gunshots were firecrackers. "After the second or third rounds, we realized that it was bad," Torres said. "That is when I looked over and he was on the ground."
After that, Torres said her memories blur together. She saw a man try to help Hazencomb while others led her away from the scene.
Laura Shipp spent two days at the festival with her son, Corey. They were "big concertgoers, especially when it came to country," a family friend said in an online fundraiser.
At some point the two were separated and Corey Shipp spent the day after the shooting looking for his mother. By Wednesday, she had been identified, her brother confirmed to CNN.
Victor Link of Aliso Viejo, California, described himself on his company's website as a "tequila quality control tester." He also enjoyed traveling, snowboarding, golfing, cooking and wine tasting with family and friends.
Andrew Soss confirmed that Link worked for his mortgage originator business.
"He was the most genuine, stand-up guy you'll ever meet. He brought a smile to everyone's face," Soss said.
Christiana Duarte had recently started working for the Los Angeles Kings after graduating from the University of Arizona in May with a degree in mass communications. The NHL team put out a call for information about her Sunday night.
Her alma mater confirmed her death. The school said it is reaching out to those who knew her, including her Sigma Kappa sorority sisters.
"All of us in the University of Arizona community are saddened that Christiana Duarte, one of our graduates from this past May, is among the victims from Las Vegas on Sunday night," President Robert C. Robbins said in a statement. "This attack is a terrible tragedy for hundreds of families, and it is a shocking and horrific event for all of us. I know I speak for the UA community in expressing our deepest condolences to Christiana's family and in asking for their privacy to be respected."
Kreibaum's sister-in-law confirmed that she was among the victims of the mass shooting.
Las Vegas native Brennan Lee Stewart shielded his girlfriend and helped others to safety before he was shot dead, his family said in a statement.
"Brennan was the kind of guy who always put others before himself, including up to the moment he lost his life," the family said.
Stewart loved country music, played the guitar and wrote music, his family said.
"His love for country music was shown through the songs that he wrote, and the music he played on his guitar. Brennan rarely missed an opportunity to attend a country concert," his family said.
Dana Gardner of Grand Terrace, California, was the deputy recorder of the San Bernardino County assessor-recorder-clerk's office.
"We are devastated and still in shock trying to comprehend what happened last (Sunday) night," her daughter Kayla Gardner posted to Facebook on Monday. "My family and I appreciate the outpouring of love and support and ask for prayers at this time."
Dana Gardner was a county employee for more than two decades and was known for her "can-do" attitude and vibrant energy, said Bob Dutton, San Bernardino County's assessor-recorder-clerk.
"Dana will be dearly missed by family, friends, and co-workers. San Bernardino County mourns her loss. We offer our deepest condolences to Dana's loved ones and to all those impacted by this horrific event," Dutton said.
Cameron Robinson lived in southwestern Utah but commuted to Las Vegas, where he worked as a legal records specialist, said his sister, Meghan Ervin.
The Alaska Housing Finance Corp., which employs her husband, John, confirmed her death.
Dorene Anderson's family released this statement through the employer:
"Due to this horrific and terrible situation, our family is dealing with a great loss. She (Dorene) was the most amazing wife, mother and person this world ever had. We are so grateful and lucky for the time that we did have with her. We are greatly appreciative and want to thank everyone for the thoughts and prayers you have been sending us. We are dealing with the situation as a family, and would appreciate our privacy as we grieve for our loss."
Lisa Patterson, from Los Angeles' San Pedro community, was a mother of three. She was attending the concert with four friends.
Patterson was active in church, helped coach in a girls' softball league and was devoted to her family, said her husband, Robert Patterson.
After hearing about the shooting, he drove to Las Vegas with his son and eldest daughter on Monday morning but couldn't immediately find out what happened to his wife.
A coroner called him Monday evening to tell him she'd passed away. He returned to Los Angeles, where he broke the news of her death to their youngest daughter, who's 8.
"I can't believe she's gone. … She was such a warm, caring person. There was nobody that cared more about people and life than my wife, Lisa," Robert Patterson told CNN affiliate KCBS.
"She was such an amazing person. She cared for so many people," her eldest daughter, Amber Patterson, told CNN. "She was so enthusiastic. She was literally the best mom, and she was my best friend."
Amber said she appreciated hearing people's fond memories of her mother.
"When I got my belly button pierced and her going with me … that kind of stuff really is what makes me think of her and makes me happy to remember her," she said.
Berger, a financial adviser, was celebrating his 44th birthday with friends in Las Vegas, the TV station reported.
Bill Wolfe Jr. was a youth wrestling coach in Shippensburg, Pennsylvania.
Jordyn Rivera was in her fourth year at California State University, San Bernardino. The university released a statement confirming her death.
"It is with the utmost sadness I must report that a member of our campus community is among the victims," university President Tomás Morales said.
Rivera was warm, optimistic and kind, he said.
Katie Ortega, who has known Rivera for years, said they played softball together as kids.
Rivera "was and always will be a role model to many," Ortega said. "She would always make it a point to make every single individual feel special, always laughing at my stupid jokes."
She was passionate about softball.
"That softball diamond was her heaven," Ortega said.
Heather Alvarado, 35, was a mother of three and married to Albert Alvarado, a firefighter in Cedar City, Utah. The couple loved traveling with their three children.
"She always saw the good in others. She spent her whole life serving others in her family and community," the Cedar City Fire Department said in a Facebook post.
"She was happiest when she was together with her family, especially her children and she would do anything for them."
"They appreciate your many words of kindness and concern," the post said.
Candice Bowers was a single mother of three. Her family described her as a superhero who loved country music.
"It was a gift that she was able to spend her final moments doing what she loved with those she loved even more," her family said.
"Her strength, fierce loyalty and memory will live on through their lives and those of her family and friends who loved her so dearly."
Her children included a recently adopted 2-year-old, her family said in a statement.
Adrian Murfitt, 35, was a commercial fisherman from Alaska.
His mother, Avonna Murfitt, told CNN that her son was jolly and caring.
ʺEvery one of his friends was his best friend,ʺ she said. ʺHe will be missed by all who knew him, and most of all by me.ʺ
The outpouring of love has been amazing, Avonna Murfitt said.
"We are humbled by the way everyone who knew him has offered assistance to help in bringing him home and celebrating his life," she said.
Meadows graduated from Taft Union High School in 2007 and later earned a bachelor's degree from Fresno State University. She returned to the Taft community, where she had worked as a regular substitute teacher with the district since 2012, the district said in a statement.
Taft Union High School Principal Mary Alice Finn said Meadows was "smart, compassionate and kind."
"She had a sweet spirit and a love for children," Finn said. "Words cannot adequately capture the sorrow felt by her students, colleagues and friends in learning of her passing."
Melissa Ramirez graduated from California State University Bakersfield in 2014 with a bachelor's degree in business administration.
Flags at the school were lowered on Monday in honor of Ramirez and the other victims and will remain so through sunset on Friday, the school said in a statement.
"We are terribly saddened to learn that we lost a member of our CSUB family in this senseless act of violence. Our entire CSUB campus community is heartbroken, and we send our deepest sympathies to Melissa Ramirez's family and friends," the school said.
Rachael Parker was a 33-year-old records technician for the police department in Manhattan Beach, California. She also had eyes on higher education.
"Rachael's smile could light up a room, even on the most difficult of days."
She loved her two adopted dogs, Maddie and Izzy. She enjoyed baking, country music and Los Angeles Kings hockey, police said.
"Rachael, we love you and we miss you. Our hearts are breaking," police wrote. "Please keep Rachael's family and friends in your thoughts during this difficult time."
She was one of four off-duty Manhattan Beach police employees who attended the Vegas concert. She died at the hospital. Another police employee, a sworn officer, was shot and suffered minor injuries, the department said.
Jordan McIldoon, a 25-year-old from Maple Ridge, British Columbia, died holding the hand of a stranger at the concert.
Heather Gooze told CNN she somehow ended up next to McIldoon. Even though she didn't know him, she held his hand during his final minutes. She felt a squeeze from his fingers, then felt his hand go loose.
Gooze said she knew there was nothing more to do. Yet, she stayed with McIldoon for hours. When his phone rang, she answered it and learned his name and told the caller everything was not OK.
She relayed the news of his death to his long-term girlfriend and his mother, all the while staying by his side, she said.
"I didn't want Jordan to not have somebody with him," she told CNN through tears. "I didn't want him to just be a no-named body. I knew who he was, and now I had an obligation to make sure that everyone knew who he was."
McIldoon's mother told Gooze he was a good, nice and fun person.
"He loved his girlfriend and had great family and great friends," Gooze told CNN.
Christopher Roybal, 28, was a general manager at a Crunch gym in North Colorado Springs, Colorado. He was known there for his "big teddy bear smile and infectious laughter," said David Harman, managing partner at Crunch.
"More than a team member, we lost someone who was a son, mentor, friend and hero, as a Navy veteran who served in Afghanistan," Harman said.
Ryan Chiaverini, Roybal's former brother-in-law, told CNN that Roybal was attending the concert with his mother to celebrate his 29th birthday. He had a really good sense of humor and had a "fun, sweet, innocent way about him," Chiaverini said.
"My response has always been the same, not one filled with a sense of pride or ego, but an answer filled with truth and genuine fear/anger," he wrote.
He said his first fight was something he'd never forget. He felt sensory overload and extreme adrenaline, making him "excited, angry and manic." But as the fights continued, the excitement faded, leaving just the anger, he wrote.
"What's it like to be shot at? It's a nightmare no amount of drugs, no amount of therapy and no amount of drunk talks with your war veteran buddies will ever be able to escape," he wrote. "Cheers boys."
Brian Ahlers told CNN his wife of 17 years was "shot in the head while dancing" with him at the music festival.
Hannah Ahlers, 34, was a stay-at-home mom of three who had lived in Beaumont, California, for the last five years, but was originally from Redlands.
"She was a full-time house wife and mommy and she was amazing at it," he said. "Very active in moms groups and our daughter's volleyball team. She wasn't too good for anybody. Beautiful inside and out."
Ryan Chiaverini, who was friends with Ahlers, told CNN that "she couldn't hurt a fly."
"She was one of the kindest people I've met," he said.
The San Francisco Police Officers Association confirmed Tuesday that Stacee Etcheber was killed in the attack.
Etcheber attended the concert with her husband, Vinnie Etcheber, a San Francisco police officer who was off-duty. When the shooting began, Vinnie Etcheber told his wife to run as he began to render aid to those wounded, the SFPOA said in a statement.
"With heavy hearts, we've learned that Stacee Etcheber has passed away. Stacee was a wonderful, caring wife, mother, and daughter. She will be terribly missed," SFPOA President Martin Halloran said in a statement.
"Our deepest condolences go out to the entire Etcheber family and our thoughts and prayers are with all those who lost a loved one during this tragic attack."
She and her husband, Tony, were in Las Vegas enjoying a weekend away from their West Virginia home.
The couple, who were married for 32 years, posted pictures on social media of themselves lounging by the pool and having dinner with friends. About 30 minutes before the shooting, Denise Burditus posted a picture of the two standing in front of the Route 91 Harvest stage.
A stranger helped him move her, and someone rode with them to a hospital in the back of a truck. Tony Burditus said his wife died in his arms.
"It saddens me to say that I lost my wife of 32 years, a mother of two, soon to be grandmother of 5 this evening in the Las Vegas Shooting," he wrote on Facebook. "Denise passed in my arms. I LOVE YOU BABE."
Charleston Hartfield was many things: a Las Vegas police officer, an accomplished Nevada Army National Guard sergeant first class and a youth football coach.
But beyond those titles, he "epitomizes everything good about America," said Brig. Gen. Zachary Doser, commander of the Nevada National Guard.
Hartfield was off-duty and attending the Route 91 Harvest concert when he was shot and killed, the Guard said in a statement.
"Charleston Hartfield lived to serve the public and protect his family," Brig. Gen. William Burks, the adjutant general of the Nevada National Guard, said. "He is the epitome of a citizen-soldier."
"Coach Hartfield touched many lives both on and off the field. He was a great man who we all lost way (too) early," the program said.
Stan King, the father of one of the players on the team, said he was "an absolute all-American kind of guy."
"He is one of the nicest guys I know and helped countless youth become winners through NYS football here in Henderson, Nevada," King said. "This kind of guy comes around once in a blue moon. He was a very special guy to the community."
Angela "Angie" Gomez was a "fun-loving, sweet young lady with a great sense of humor" who loved the stage, the Riverside Unified School District said in a statement.
Gomez attended Riverside Polytechnic High School in California and was a member of the class of 2015. She acted on stage with the Riverside Children's Theater, was involved in the middle and high school choir, and was a cheerleader for the high school, the school district said.
She challenged herself academically with honors and Advanced Placement courses, the school district said. And she "was always seen with a smile on her face whenever she was on campus."
"Angie was a loyal friend who loved her family and will be forever missed by all those who knew her," the district said.
Her English teacher and cheer coach Lupe Avila said the school was "deeply saddened by the loss of a wonderful young woman who had her whole life ahead of her."
Sonny Melton, 29, a registered nurse from Tennessee, was shot and killed in the attack Sunday night, according to the Henry County Medical Center in Paris, Tennessee, where he worked.
"He saved my life. He grabbed me and started running when I felt him get shot in the back," she said. "I want everyone to know what a kind-hearted, loving man he was, but at this point, I can barely breathe."
"You know how when you met someone and you just know that they're good and kind? That was Sonny," said Christy Davis, assistant professor of nursing at Union. "He just had a sweet, kind spirit about him."
"In particular, Crissy and I extend our condolences and prayers to the family of Sonny Melton from West Tennessee who was among those killed in this tragedy," Haslam said. "We know other Tennesseans were in attendance or performing at the event, and my thoughts go out to them as we grieve and process the enormity of this attack. Tennessee stands with Las Vegas during this difficult time."
Sandra Casey, a special education teacher at California's Manhattan Beach Middle School, was fatally wounded in the shooting, according to Mike Matthews, the Manhattan Beach Unified School District Superintendent.
Casey had taught there for the past nine years and will be remembered for her sense of humor, her passion for her work, her devotion to her students, and her commitment to continuing her own learning and to taking on whatever new projects came her way, Matthews said.
"Our students, employees, and parents are devastated by Sandy Casey's death. We lost a spectacular teacher who devoted her life to helping some of our most needy students," Matthews said.
Several other members of the Manhattan Beach school district attended the music festival as well but were unharmed, the school district said.
Jenny Parks, a kindergarten teacher for the Westside Union School District in California, was among those who died in the Vegas shooting, according to Steven McCarthy, her husband's uncle.
"She was truly one of the most loving people you could ever hope to meet," McCarthy said. "She always went out of her way to help anybody."
He said that he never saw her upset, and never saw her sad.
Her husband, Bobby Parks, is currently in surgery after a bullet injured his arm and finger, McCarthy said. He said that Bobby Parks is responsive and aware that his wife passed away.
Jenny Parks has two brothers who lived in Las Vegas, and the couple was visiting them.
Quinton Robbins, from Henderson, Nevada, "was the most kind and loving soul," his aunt, Kilee Wells Sanders, said on Facebook.
Robbins' uncle, Mike Wells, confirmed that Robbins died and said his family was in disbelief. Quinton Robbins coached his younger brother's flag football team, and the two siblings had just attended a Dodgers game together.
"Everyone who met him, loved him," Sanders wrote. "His contagious laugh and smile. He was truly an amazing person. He will be missed by so many, he is loved by so many. So many awesome talents. I can't say enough good about this sweet soul."
Neysa Tonks, a Las Vegas resident and single mother of three, attended a company event before going to the concert with her co-workers from Technologent.
A bullet hit Tonks in the head, killing her. Someone called her family around midnight Sunday.
"I was in my bed and I heard my brother yelling and my dad was crying, which didn't seem normal," her 14-year-old son, Greysen, told CNN.
Greysen turned to his dad for answers. "And he said, 'Your mom was shot in the head. She is dead.' I froze," the boy recalled this week.
She also leaves behind her sons Kaden Manczek, 24, and Braxton, 17.
Manczek said although he is numb, "you are so happy for the life that she had."
"And what an amazing life she lived," he said.
Tonks' mother, Debbie Davis, said the family would like to live by something her daughter used to say.
"If you ever said something like, 'Oh, I just hate that,' she'd say, 'Don't be a hater.' She said that all the time," Davis said. "Even if you said you hated broccoli, she'd go, 'Don't be a hater.'
"She just (was) a wonderful person with a huge light, that we will not let be dimmed."
Technologent has established a GoFundMe page on behalf of Tonks' family. The effort had raised more than $155,000 by Wednesday.
Susan Smith, a 53-year-old mother who was the office manager for Vista Elementary School in California, was killed in the shooting, according to Jake Finch, the Simi Valley Unified School District's media relations coordinator.
Smith, who had been with the school district for 16 years, was a "big country music fan" and had gone to Las Vegas with a couple of friends for the music festival, Finch said.
She was "always so welcoming," Finch said, and served as the "right hand to the principal."
Smith was married with two young-adult children, Finch said. Her own kids were once a part of the school district and she was very active as a parent, Finch said.
"Everybody knew her," he added. "She touched a lot of lives."
The PTA at Vista Fundamental Elementary School posted condolences for Smith on Facebook, saying "she was a wonderful woman, an advocate for our children, and a friend."
Bailey Schweitzer was with her mother watching some of their favorite bands at the Route 91 concert in Las Vegas when the 20-year-old was shot and killed, according to CNN affiliate KBAK.
Schweitzer graduated from Centennial High School, where she was a cheerleader and played volleyball. She was also a member of the Valley Bible Fellowship Church and helped run her family's business, Bakersfield Speedway.
Matt Woessner, a family friend, watched Bailey grow up and said she "had a heart for people." He told KBAK that "the whole community has lost a great person in Bailey Schweitzer and she's going to be truly missed everywhere."
San Diego-based attorney Jennifer T. Irvine, who was on vacation in Las Vegas to attend the concert, was one of the victims of the shooting, her publicist Jay Jones said.
The website also notes other unique interests out of the courtroom. She earned a black-belt in taekwondo, enjoyed practicing hot yoga, was an avid snowboarder, and aspired to learn indoor rock climbing and to experience sky-diving, the site says.
Jones, her publicist, released the following statement:
"Remembering a dear friend & colleague whose life was cut short by an unspeakable tragedy. Our sincerest thoughts to those affected during this difficult time. May our unity & strength shine over the darkness."
Lisa Romero-Muniz, a secretary for Gallup-McKinley County Schools in western New Mexico, was killed in the shooting, school district superintendent Mike Hyatt said.
Her son, Anthony Romero, told CNN she was generous and kind.
"She wore her heart on her sleeve … she would give you the last dime she had with no questions asked and treated everybody like family."
Anthony Romero said his mother's smile would "brighten the darkest of nights."
She had worked for the school district since 2003 at three different schools and specifically worked as a discipline secretary, acting as an advocate for students during times of discipline.
"As many students have mentioned in some Facebook posts and to many of us, she was there for them and she respected them and tried to work with them as much as she could," Hyatt said.
He said Romero-Muniz was outgoing, kind, and considerate of all those she worked with.
"We cannot express enough the loss that our organization feels at this time, and the heartache we feel for Lisa's husband, children, grandchildren and family," Hyatt said.
Rhonda LeRocque of Tewksbury, Massachusetts, was one of the victims in the shooting, her family said.
Her mother, Priscilla Champagne, told CNN that LeRocque was a "beautiful woman inside and out."
"A truly great mother, daughter, wife, aunt, sister, worker, and a good, kindhearted friend. She had a great faith in Jehovah God, and had a wonderful family life. She loved Hawaii, Disney, and country music." she said.
"She was the best of the best. She was the hostess with the mostess … the glue who kept our family gatherings together. She will be greatly missed by us all."
Her sister, Korina Champagne, said in a Facebook post on Monday that her heart was broken.