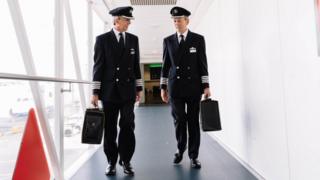 Twin siblings have actually retired as airline company pilots, landing their last flights 30 seconds apart.
Captains Jeremy and Nick Hart marked their 60th birthdays on Thursday by landing their aircrafts together at Heathrow Airport.
Jeremy from Flitton in Bedfordshire explained retiring together with his bro as "an excellent way to end up".
Nick from Banbury, Oxfordshire, déclaré: "Like every aeroplane has its last landing, so does a pilot."
'Fitting ending

'

The set, who were born 30 minutes apart and have actually clocked up 45,000 flying hours in between them, stated they had actually typically been misinterpreted for each other throughout their professions however never ever flown together due to the fact that they were both captains.

Jeremy signed up with British Airways 30 years earlier in 1987, while Nick signed up with from British Midland dans 2012 when it was taken control of by Bachelor's Degree.

Nick stated: "Jerry had actually never ever discussed to his associates at British Airways that he had a twin sibling who flew for British Midland, and one day [years ago] a British Airways pilot stepped over to me at Heathrow and asked exactly what in the world I believed I was doing dressing up in a British Midland uniform.

"It took a little bit of discussing to encourage him that I wasn't Jeremy."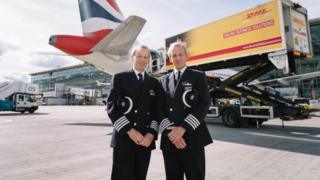 Jeremy, who landed an Airbus A320 à 12:34 BST from Gothenburg, Suède, déclaré: "I've invested more than 2 and-a-half years in the air – a great deal of it in the holding pattern over Heathrow."
Nick, who flew from Geneva, landing at 12:35, déclaré: "I've done 28 years short-haul flying. That's about 11,000 flights. It's at least 1.2 million guests."
British Airways' head Airbus pilot James Basnett déclaré: "They showed up worldwide 30 minutes apart, flew the very same airplane in the exact same airline company, then left in the very same way that they showed up – minutes apart.
"A fitting ending to excellent and long professions and I understand that they will be sorely missed on the fleet."
Lire la suite: http://www.bbc.co.uk/news/uk-england-41446043