Former minister and novelist promises government for everybody after runoff where he trounced conservative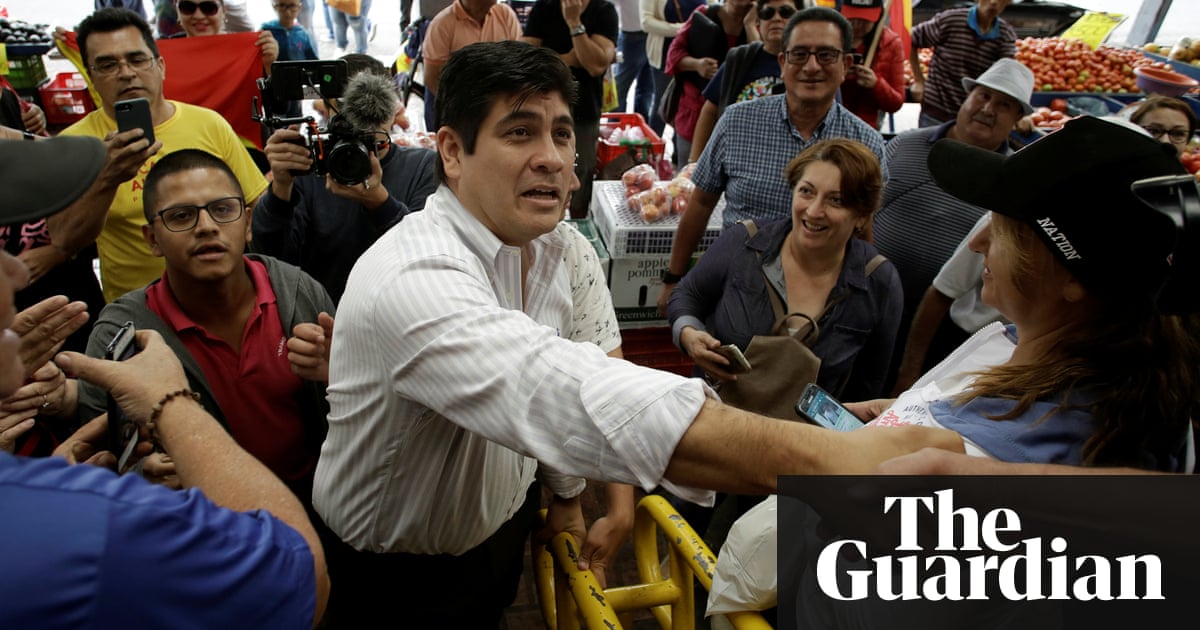 A centre-left former cabinet minister and successful novelist has won Costa Ricas presidential election, decisively defeating a conservative evangelical pastor and singer who shot to political prominence by campaigning against same-sex marriage.
Polls before the runoff on Sunday put the two men almost neck-and-neck, but with 95% of ballots counted Carlos Alvarado Quesada of the ruling Citizen Action party had nearly 60.8% of the vote against 39.2% for the National Restoration partys Fabricio Alvarado Muoz.
Costa Rica once again delivered a beautiful democratic message, Alvarado Quesada, 38, told cheering supporters blowing horns and waving the countrys red, white and blue flag. My commitment is to a government for everybody, in equality and liberty. There is much more that unites us than divides us.
Alvarado Muoz, a 43-year-old former TV journalist, readily conceded defeat but said he had fought for principles and values. Sinking to his knees, his arms raised, he told tearful voters not to be upset because we made history, because our message touched the countrys deepest nerve.
Alvarado Quesada, who was also a singer in a college prog-rock band before turning to politics and writing, will be Costa Ricas youngest modern president and joins, with Frances Emmanuel Macron and New Zealands Jacinda Ardern, the small club of national leaders elected before the age of 40.
His unexpected 20-point victory followed a poll showing seven out of 10 voters opposed gay marriage, and it should hold out hope for fellow progressives in Latin America, where a conservative backlash is under way in several countries that have backed same-sex unions and are holding elections this year.
Alvarado Muoz, who was elected an MP in 2014, leapfrogged to the fore of the presidential race after seizing on a decision in January by the inter-American court of human rights that its signatories including Costa Rica must guarantee same-sex couples equal rights to marriage and property ownership.
While Uruguay, Colombia, Brazil and Argentina have legalised same-sex marriage, many other countries in the region have not. Calling the ruling a violation of traditionally Catholic Costa Ricas sovereignty and values, Alvarado Muoz pledged to pull the country out of the court and the Organisation of American States if he was elected.
He also promised to restrict womens access to abortions, end sex education in schools and fight gender ideology, the theory advanced by conservative Christian groups, including in Europe, that gay- and feminist-led movements are determined to destroy the traditional family and natural order of society.
Alvarado Quesada, who has a masters degree in development studies from Sussex University, pledged to implement the courts same-sex ruling. In pre-election interviews, he said he saw his rivals campaign as part of the broader picture of western democracies facing fundamentalist movements.
I think its a reflection of whats happening in the region and the world, including Brexit in Britain, él dijo. People are experimenting across the world with movements that push single-issue or populist agendas.
Alvarado Quesada will take office in May. His vice-presidential candidate, Epsy Campbell, will become the countrys first Afro-Costa Rican to serve in that role.
Sobre el autor: http://www.theguardian.com/us