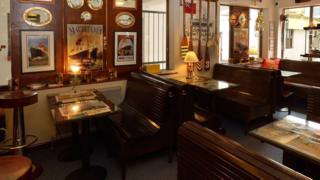 The owner of a coffee shop with a no kids under 12 policy has actually countered at critics requiring a boycott of his store.
The Chart Room, in Brixham, Devon is an ocean-liner themed coffee lounge which likewise houses collectables and antiques.
Bob Higginson stated it was developed for individuals to experience the "luxury and splendour of early steamship travel without diversion".
But resident Wendy Moore stated she would be boycotting the coffee shop, and getting in touch with others to do so.
More on this story and other Devon and Cornwall news
"Can anybody inform me simply what sort of town we're residing in when pets are enabled into a facility and kids are not?" she composed.
"Who in the world does this Bob Higginson believe he is? Would he prohibit handicapped individuals from entering his facilities? Or individuals of a specific race or colour of religious beliefs? I'll wager my bottom dollar he would not; he 'd be scared to death to do so."
'Unfounded allegations'
But Mr Higginson states the policy has actually been "hyperbolized".
"I merely wished to develop a good peaceful zone where grown-ups might sit, unwind and delight in the peaceful environment," he stated.
"There are plenty over other locations for individuals with kids to go.
"It's not like I've released a ballistic rocket over Torbay."
Mr Higginson stated he has actually gotten "a hundred messages of assistance" because the "unproven allegations" were published online.
He stated that with many valuable antiques on screen, he was "rather worried" about kids remaining in the cafe.
Read more: http://www.bbc.co.uk/news/uk-england-devon-41100226